How to make Gift Cards work for your business all year round
As modern technology continues to evolve, we're always looking for new ways to make businesses more efficient, and your gift card offering is no exception. Gone are the days when merchants were restricted to paper gift vouchers (certificates), that involve the manual keeping of a ledge to record transactions. Looking back, it's easy to understand how losses can accumulate when the redemption process amounts to repeatedly scribbling over one number to record another. Gift card technology has progressed and so too should your business.
With LoyLap, both digital and physical gift cards can be sold and redeemed directly from your POS system or using our Merchant app on a smartphone or tablet. That means that every transaction is automatically recorded, so there's no need for the manual ledger to document sales. You also have the functionality to register cards to recipients at the time of purchase, to drastically reduce the risk of lost or stolen vouchers.
What's more, digital gift cards sales aren't just restricted to an in-store buy. Each of our customers can have a unique URL for their customisable digital gift card page. We can then provide the support to offer your digital gift cards via your website, in addition to social media sites.
Our partnership with Facebook and Instagram ensures that your gift cards are effectively promoted on your social media profile pages with a ''Gift Cards'' button that allows for direct purchase. You can even use the sticker in Stories to add a new purchase experience to further increase transactions for your shop. Instagrammers can then re-share your sticker in their own Stories, driving awareness about your cause.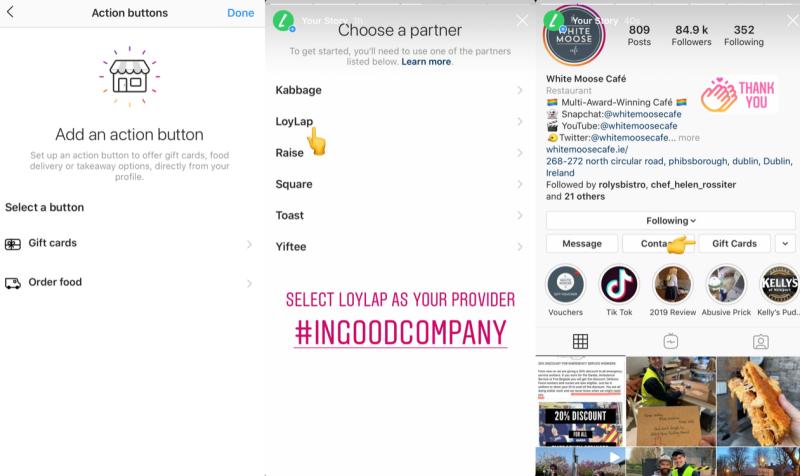 At LoyLap we aim to provide easy-to-use, effective solutions to physical presence businesses so they can get on doing what they do best. Our gift card technology is exemplary of this, as it can be plugged into your business operations and continue to work for you with little to no additional maintenance.