How to Increase Sales From Instagram and Facebook Online Food Ordering
Whether you're looking to increase your following, or encourage further engagement across social media, when you share new content or curate GIFs and memes, what's your return on investment (ROI)? Impressions and likes can be difficult metrics by which to measure your success. Still, with 1.82 billion users on average logging onto Facebook daily, we know that potential customers are online. With Facebook and Instagram food ordering, you can leverage your business's social activity to increase sales during the pandemic, and in the lead up to the holiday season.
Effectively building your online presence is no easy feat. Sporadic posts and overuse of popular hashtags don't necessarily translate to positive brand awareness or trust. When you're consistently active and put in the effort of presenting relevant content to your followers, it shows. What's more, users that like or follow your business on social are already actively engaging with your brand. Why not make the transition to Facebook and Instagram food delivery and pick-up seamless, while eliminating as many barriers to the checkout process as possible.
What's worth exploring is whether your current social media strategy best encourages your customers to place an order.
Optimising your business Facebook and Instagram for online food ordering
Page features
Both Facebook and Instagram provide a host of built-in features allowing you to customise and optimise your page according to the needs of your business. Utilising those features is the first step to drive more sales via social media.
Call-to-action profile buttons encourage users to place an order directly from your social media profile. There are many options available to you on Facebook, but as a business looking to drive online food orders, the 'Order Food' button is ideal. The 'Order Food' profile button is also available on Instagram.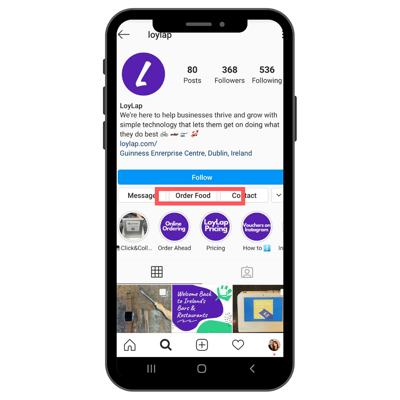 (Order Food button on Instagram)
Post types and features
Use the full suite of post types available to you to drive engagement and achieve a wider reach. Also consider using a range of media including video, images and links.
Stories are an excellent option for attracting attention. Not only do they have a prime spot at the top of both the Facebook and Instagram apps, but when you have an active story, it helps draw even more attention to your feed posts.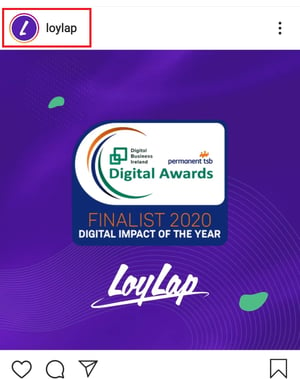 (Having a active story highlights your logo on feed posts)
Over 500 million people use Instagram Stories every day, according to Hootsuite, with 200 million users visiting at least one business profile a day. When you add an interactive 'Food Order' sticker to your Story, viewers can tap the Sticker to seamlessly place an order with your business on your online ordering platform.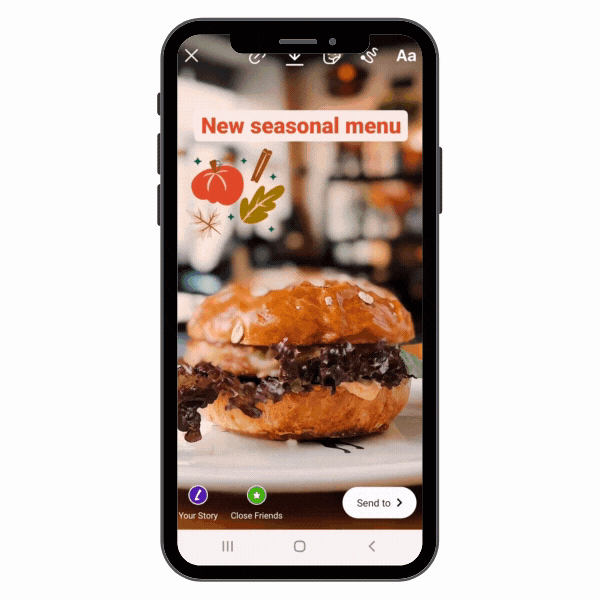 ('Food Order' stickers on Instagram Stories)
Post timeliness
Timing is crucial. Sharing content when your following is most active online is paramount to the success of any post. Just as a cafe or bar operates during set periods of the day, schedule your content to increase engagement, in correlation with your offering.
According to Sprout Social, the best time to post on Facebook and Instagram in 2020 is Wednesday, specifically at 11:00 AM. Adversely, the worst day to post on both social sites is Sunday, with the least engagement before 7:00 AM, and after 5:00 PM every day on Facebook, and before 6:00 AM and after 9:00 PM every day on Instagram. However, it is always best to have a look at your own Facebook and Instagram insights to find out when your specific audience is online.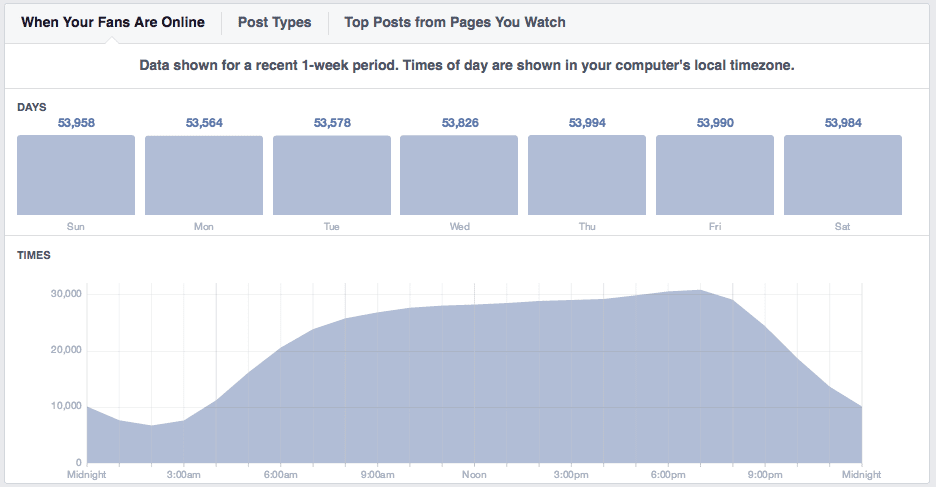 (When Your Fans Are Online Facebook Insights report)
Be strategic about your timing. For example, posting 1-2 hours before key meal times could be ideal for reaching those who haven't already made up their mind about their next meal. This is more likely to drive a sale than reaching someone when they have already just eaten.
In keeping with these time frames, daily content about your breakfast, lunch and dinner menus can allow for enough material to consistently post, without bombarding your followers.
A picture is worth a thousand words
The human brain processes images 60,000 times faster than text, with increased competition for 'space' on social media and in your customer's minds, a well-selected image is the quickest way to secure your spot and get your message across.
Pairing the right image with an informative caption can leave prospective customers salivating over your menu.
Facebook and Instagram ads for guaranteed reach
With a better understanding of what drives engagement, you can start to consider ads on both Facebook and Instagram, that ensure your content is in front of the right audience. Facebook Audience Insights can provide merchants with a more meaningful overview of the users connected to their Page. Using third-party, native data, Facebook can define demographics, interests and behaviours so that you can create more targeted campaigns to drive reach and convert views to sales for your business.