Food for Thought: Order Ahead is Available on Instagram
What's for dinner tonight?
This simple question has vexed individuals, friends and families alike, on a quest to satisfy their hunger. But when considering all of your take-away options, where do you start?
Perhaps you peruse a few menus on Uber Eats or Deliveroo to see what's available near you, or you check out what's on offer online at your favourite restaurant. Regardless of how you decide on your preferred take-out destination, as SMEs, you hope to account for all contingencies.
Given the costs associated with becoming a delivery partner on most third party food delivery apps, your options are limited to à la carte. Which is why it's so important to be aware of all of the platforms available to your business.
Maximise the benefit of your social reach
LoyLap, along with Deliveroo, JustEat and Uber Eats are in partnership with Instagram to make delivery and take-out from your business more accessible to your customers.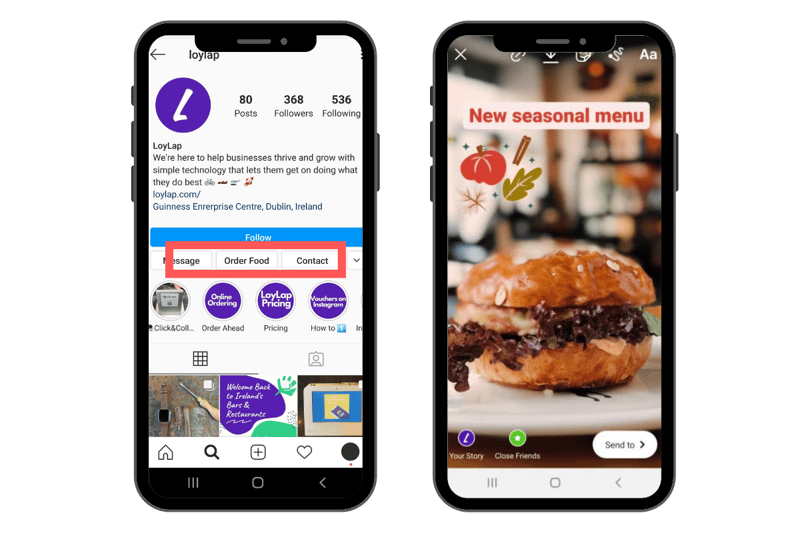 Including an "Order Food" button on your Instagram profile and using "Food Orders" stickers in your story, you can direct your followers to LoyLap's Order Ahead for a streamlined ordering experience that encourages more spend at your establishment.
See "Adding LoyLap as a Food Delivery Partner on Instagram" for instructions on how to do so.
While a limitless budget can afford the luxury of professional ads and marketing, by understanding your customers, you can leverage their online habits to direct traffic right to your business, for free. There's no need to compete only with your neighbours in close proximity if you can increase brand awareness on the social sites your customers are already using.